FOOD & DRINKS AT SHORT STOP: COFFEE, BEER, SNACKS & MORE
Need an early-morning or late-night pick-me-up for your travels? Short Stop's 47 convenience stores in Fayetteville, Pinehurst, and surrounding areas have all your favorite snacks and drinks, from donuts, to premium coffee, to frozen slushies and milkshakes.
Many of our locations feature a beer cave as well, providing a wide selection of ice cold beverages for you to enjoy when you get to where you're going.
Keeping You Fueled for the Long Road Ahead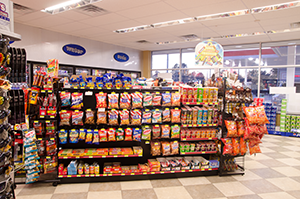 With 690+ food and drink options to choose from, including groceries, dairy products and take-out foods, you're sure to find something at Short Stop that satisfies whatever craving you may have! Brands we carry include:
Nestle Ice Cream
f'real Milkshakes*
Hot Dogs*
Frozen Beverages
Jamaican Mountain Blue Coffee
*Found in Select Stores
Have additional questions about our products? Don't hesitate to contact us — we'd be happy to assist you.
Visit Short Stop's convenience stores in Fayetteville, Erwin, Hope Mills, Sanford, Spring Lake, Dunn, Lakeview, Selma, Newton Grove, Beulaville, Pink Hill, Benson, West End, Buies Creek, Coats, Dudley, Parkton, Elm City, Southern Pines, Aberdeen, Goldsboro, Carthage or Pinehurst for groceries, snacks, drinks and more from your favorite brands!